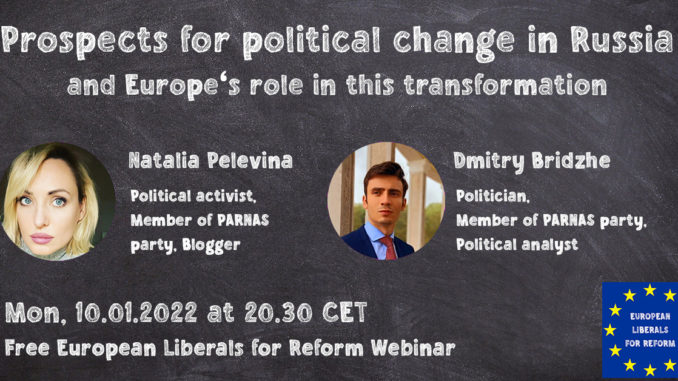 Russia is in a stalemate: Real politics are nonexistent, economic decline is evident, no trace of democracy is left. Opposition members have been killed, imprisoned or forced out of the country. Yet, sitting around waiting for Putin to die is a nasty option that will lead to irreparable destruction within Russia and many further problems internationally. A few people in the opposition and still in Russia are trying the find the course of action and we are going to need Europe's support. European Liberals for Reform has invited two of these people in the opposition for this webinar:
Natalia Pelevina:
born in Russia, raised in the UK, playwright and politician, member of Political Council of oppositional PARNAS Party (currently deprived of official registration). Had been under constant attack by the regime via trumped up criminal charges and multiple anti-opposition films.
https://en.m.wikipedia.org/wiki/Natalia_Pelevine
Dmitry Bridzhe:
is a politician and an entrepreneur, member of Alde Party and Russian Political Party Parnas. He was born in Syria and lived in Lebanon all his childhood. As political analyst he will give an insight in Russia's situation.
https://youtu.be/5RBsQLPJLRk