Preliminary information – will be updated as more details become available – click for latest information on event and how to join.
Monday 20 December 2021 20:30 CET
Misleading and false information becomes a danger when it has the aim of deliberately deceiving or influencing people and is distributed in a systematic manner. This is known as disinformation. However, it is not easy to identify targeted disinformation as such: Sometimes things are completely made up, sometimes they are deliberately taken out of context, exaggerated or essential information is omitted, creating a false impression – not only by text but also in manipulated pictures or videos (deep fakes).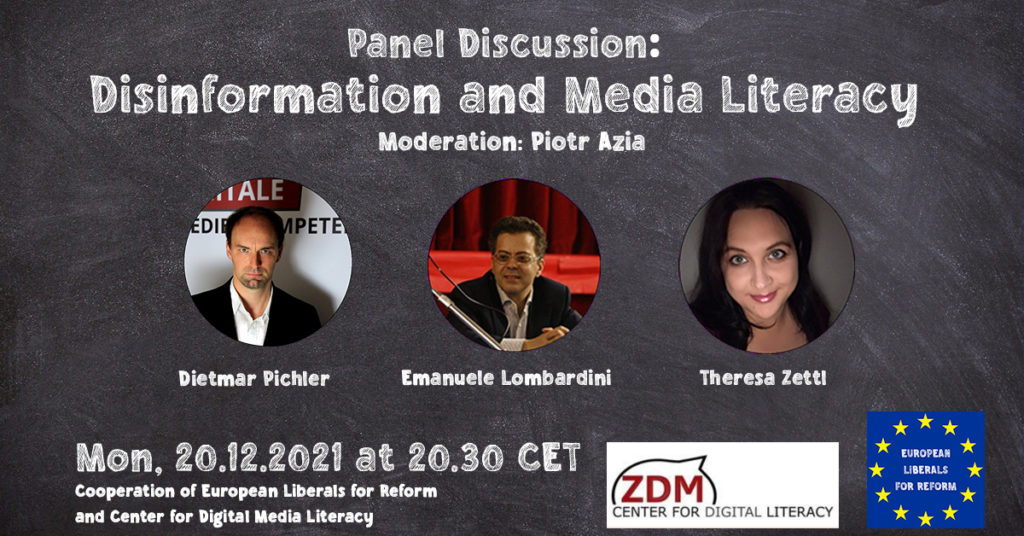 European Liberals for Reform has invited the following experts for our panel discussion in cooperation with the Center for Digital Media Literacy, Vienna:
Panelists:
Dietmar Pichler, Co-Founder of Center for Digital Media Literacy, Austria
Dietmar Pichler is board member for International Relations at Vienna goes Europe, programmatic Director and co-founder of the "Center for Digital Media Literacy" and a political strategist at "Unlimited democracy".
Emanuele Lombardini, Journalist & Editor-in-chief of the ELfR blog, Italy
Emanuele Lombardini, born in the middle of Italy in 1975. Journalist. He works with Avvenire, third italian generalist newspapers by numbers of readers and two others national editorial group. Europe and Europe related topics addicted. Libdem, federalist.
Theresa Zettl, Social Media & Digital Marketing Expert, Germany
Theresa Zettl is co-founder of European Liberals for Reform and just got recently elected into the ALDE Individual Members Steering Committee with the term starting on January, 1st 2022. With her work in the Social Media field, she is regularly faced with disinformation, conspiracy theories and false facts.
Moderator: Piotr Azia