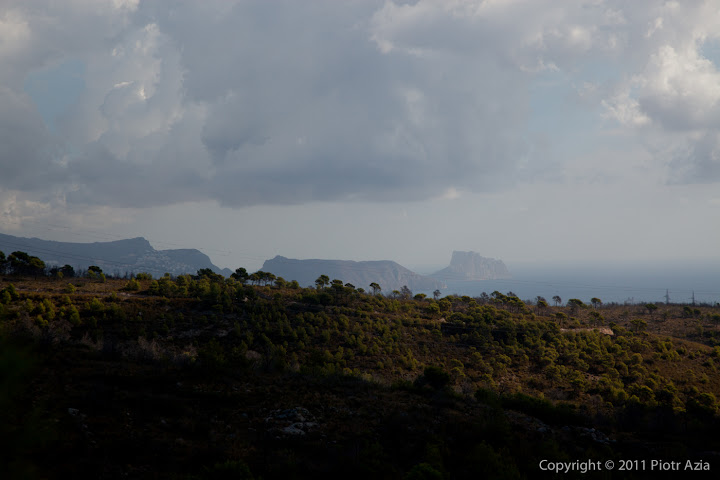 15 October 2011 – Monte Casino-La Nucía
We started a few minutes after 10:00, as some of us had trouble locating the starting point (including the writer of these lines – thanks to the group for waiting!)
As promised, we had some lovely views of the coast and Puig Campana, made even more interesting by the partly cloudy weather.  It certainly made for some interesting lighting for photographers.
The gentle pace and occasional stops were just fine for the beginning of the walking season. We enjoyed walking, but also having the time to look at the landscape, have a drink or a snack as we progressed. The lunch stop by the ruin of a finca, with a view on the coast, was very enjoyable – time to have some food, but also a chat with the other hikers.
Meeting old friends and new is always one of the pleasures of rambling, and this walk was no exception – we spent time chatting and catching up on news, after the summer break. In fact, we decided to extend the pleasure by going for a drink after the walk. The distance to the wooden hut of Polop only deterred one walker – everybody else enjoyed a long, leisurely chat and a few drinks, before heading home.
Thanks to Geoff for leading the walk so well – and see you soon!
Follow the walk on Google maps and look at some of the pictures in the slideshow at the bottom of this page.